Tuesday, May 09, 2006
Friday, November 11, 2005
Foto Nails
(Method of affixing images on fingernails) Product Description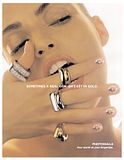 The product consists of a system designed to capture a photograph and transfer it to an adhesive material to be applied to an artificial fingernail.
What makes the product unique is that it allows customers to wear a personal photo of their choice - a boyfriend, pet, picture of themselves, group of girlfriends etc. on the their fingernail(s). The product is designed specifically for application to artificial nails. These artificial nails are a highly personalized product when compared to painting a design on nails or decorating nails with gems or decals.
Production of the product will require equipment to capture and produce the image. This can be achieved through a centralized approach — images are sent via the Internet to a centralized production facility and the final product is shipped to the customer. Or, equipment can be placed in retail stores or salons, which will produce and print the image on-site.
Technology Overview
There are three components to the technology required in the production of this product: image capture (digital or scanned and digitized), configuration (resolution and size), and printing (onto a film that is adhered to the artificial nail).
1. Image capture
Image capture refers to images that have been put into a digital format. Conventional methods of image capture, to name a few, are digital cameras, flatbed scanners and computer software drawing programs. It is any method that will convert an image from an analog format to a digital format. Once the conversion has been completed, it is typically stored on a device such as a hard disk drive or a flash memory card.
2. Image configuration software
Once a digital image exists as described above it is ready for use in this product. Using software on a computer, the image is placed, arranged, scaled and otherwise edited to fit on an appropriate nail template. The software for this product is a custom program designed to perform several tasks.
The software has a user interface that allows consumers to use their digital images to create photo nail templates. The initial application assumes users (customers) will
configure the images to design their own template or layout. These templates can then be printed, saved, reused and edited at any time. The software has financial transaction features to track sales of photo nails created using the software. The software has the ability to support affiliates that are selling this product to their clients. The software can also run on virtually any computer using any operating system within certain guidelines.
3. Image printing
After the software is used to create a photo nail template, it can be printed. This product uses a waterproof, dermatological-safe plastic on which the image is reproduced. There are two methods of printing photo nail templates that have been developed for this product. One method uses a simple 2-dimensional plastic and a dye-sublimation printing system. The other method uses a custom plastic and a 3-dimensional impulse thermal laminator with a dye-sublimation printing system. The first method is a low-cost product and shorter life on an artificial nail. The second method is a more durable, high-quality product that has a longer life on an artificial nail. The 3-dimensional option requires custom made equipment with a higher up-front development cost. However, this option provides a longer lasting, higher quality product and the cost of goods would be competitive with the 2-dimensional approach. In each case, the printed photo nail templates can be applied to an artificial nail.
Intellectual Property
A patent application (Number 20030217758) was filed November 27, 2003 and is pending issue. It covers a "Method of and system for affixing images to fingernails." Following is the abstract from the U.S. Patent Office application:
The present invention provides a system for affixing a custom image to an artificial fingernail. The system comprises a memory for storing the image, a processor operatively coupled to the memory and a printer operatively coupled to the processor. The processor is configured to obtain the image from the memory and cause the printer to print the image on a material. The material with the image printed thereon is attached to the artificial fingernail using an adhesive. In addition, a method of affixing a custom image to an artificial fingernail is provided. The method comprises the steps of obtaining the image, printing the image on a material and affixing the material with the image printed thereon to the artificial nail using an adhesive.
Market Overview
The product competes in the nail services market, specifically in the nail enhancement segment, in the nail art category.
The nail products and care industry is big business. There are 51,571 nail salons in the United States and 368,818 nail technicians, generating $6.48 billion in annual sales. An additional $795 million in nail care products are sold through retail outlets.